How to Measure the Hydrophobicity of Hydrophobic Fumed Silica
Here are three hydrophobic fumed silica products:
which have been modified by different treating agents, They are all hydrophobic products. How do we compare their degree of hydrophobicity?
Contact angle helps us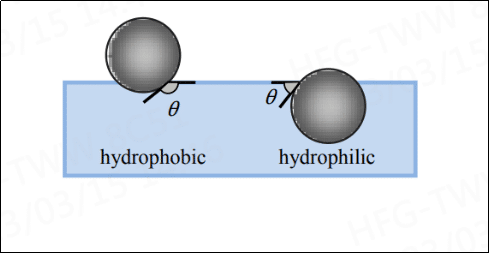 Their contact angle results rank
Contact Angles of Different Grades of Hydrophobic Fumed Silica
| Grades | First Result | Second Result | Third Result | Average Value |
| --- | --- | --- | --- | --- |
| HIFULL HB-139 | 126.6° | 125.3° | 127.5° | 126.5° |
| HIFULL HB-132 | 122.1° | 121.6° | 123.1° | 122.3° |
| HIFULL HB-151 | 120.3° | 121.1° | 120.9° | 120.7° |
This means HIFULL HB-139 obtains the best hydrophobicity among these three products
Related Products
HIFULL® HL-450 (BET=450㎡/g) HL-450 Hydrophilic Fumed Silica HL-450 is hydrophilic fumed silica synthesized from the hydrolysis of high purity chlorsilane in a flame of oxygen and hydrogen at temperature over…
Hubei Huifu Nanomaterial Co., Ltd. manufactures more than 10 grades of fumed silica, both hydrophilic and hydrophobic. We get ISO, REACH, and participate in setting ISO18473-3-2018, ISO18473-1-2015, and ISO23157. We are strong in R&D product quality and factory capacity. Feel free to contact us by email: tww@hifull.com
ABOUT HIFULL
Our main products are fumed silica SiO2, fumed titanium dioxide TiO2, and fumed alumina Al2O3. We get 20+ years of expertise and 20,000 tons of annual capacity. We supply total of 23 grades of hydrophilic & hydrophobic fumed silica. We get registration of REACH and pre-registration of K-REACH & KKDIK. We are the leading setting body of ISO18473-1:2015, ISO18473-3:2018, and ISO 23157:2021. Learn More About Hifull
Frequently Asked Question
Still have questions?
If you cannot find an answer to your question in our FAQ, you can always contact us and we will be with you shortly.